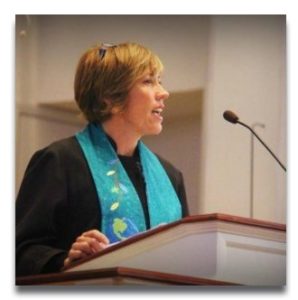 Reverend Kim Priddy, Pastor
Rev. Priddy grew up in North Carolina and earned a B.S. in Economics from UNC-Greensboro (1989) and a MDiv. from Wake Forest School of Divinity (2014). Her ministerial experiences have been shaped through her work with many of the most vulnerable in her community.
Rev. Priddy has been actively involved in the community serving in many capacities, including: Greensboro Faith Leaders Council (Co-Chair), Wake Forest Divinity School (Adjunct Professor), Women Breaking Barriers (Speaker), Step-Up Ministry (Board Member), Youth Villages (Board Member), Bread for the World, and Contributor to Greensboro News and Record.
Rev. Priddy is the proud parent of Ryan, Brad, and Kate. In her spare time, she enjoys being with family and friends, tennis, running, and reading in coffee shops.
My passion is for our church to fall in love with the God who created us, to grow in our faith, and that our faith lead us boldly to be the Body of Christ in our community.
Get in touch! [email protected]
Dr. Stephen Emberley, Director of Music
Dr. Stephen A. N. Emberley (they/them/he) is a Two Spirit, transgender solo and collaborative concert pianist who has performed throughout the United States, Canada, Europe and Australia. Dr. Emberley holds a DMA degree in piano performance, pedagogy and literature from James Madison University where they studied with Dr. Lori Piitz (solo) and Dr. Gabriel Dobner (collaborative). 
Dr. Emberley currently works as a freelance vocal and instrumental coach with students at UNCG. They have played for choirs, directed summer music camps for kids, worked at several universities, and enjoy using music to tell stories. Although he began studying piano at age three, Dr. Emberley immerses himself in a wide range of creative interests. They write poetry, paint, explore natural movement, and craft theological articles (he has cognates in theology). Much of their artistic work centers around creating visibility and representation for the LGBTQ+ community, especially for transgender people, as this was something they didn't have growing up. 
Dr. Emberley currently lives on Saponi (Occaneechi Band) land in what is now called North Carolina. They are working to reconnect with and understand their Mi'kmaq heritage.
Session Members
Class of 2023

Ellen Morton
David Boger
Class of 2024
Karen Johnson
Tim Saunders
Class of 2025
Zoe Dillard
Megan Hadley